To make my life easier or perhaps yours too. Here is a brief list of what software/tools/application I use on my PC to help my daily routines. They are not sorted, so please bare with me. I will keep updating this page as I might need it myself too :)
Visual Studio extended scrollbar - with syntax highlighted thumbnail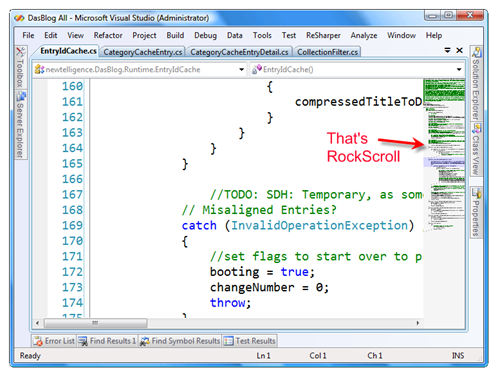 Similar to Rock scroll - with more features.
The best code merge/diff tool.
If you use Windows Run or Command Prompt a lot, you will like this.
It launches programs and does a very good job in searching both your computer and web, obviously.
Utility to manage multiple monitor. It allows you to maximize program to cross monitors and it supports more than 10 monitors.
Previously called JKDefrag has recently released its ver. 4.0 which come with scripting that makes it your (My) Defragment tool.
Comparatively fast PDF reader.
Print to PDF when you can save paper and save the earth.
Has better compression compared to Zip.
Extremely fast media player.
Free video converters to convert videos to PSP, iPhone, iPod, BlackBerry, Palm Pre, Android and etc.
This tool allows you to mount ISO file to virtual CD/DVD-rom.
Setup to use Tor and you are the most secure person in the world.
Fast start-up internet browser.
Who doesn't use it these days?
Online document editing tools. Supports all sorts of text documents, presentation slides, spread sheets and more.
Free Offline blog writer.
Free image editing tool. This is the tool I use to edit my photo before posting it up to Picasa.
Edit, organize and share your photos. Synchronize seamlessly with the
web Picasa
.
Create panorama pictures.
Video editing tool.